One page WordPress themes significantly grew in popularity in the last few years. Yes, a multi-page structure is great for website owners looking to showcase lots of information. But one page designs are well-suited for those with less content to share. If you're looking to promote a single product or highlight specific work, a one page theme is the better alternative. There are plenty of awesome designs to choose from; some of them completely free.  Plus, they come packed with premium-like features. You will be able to put your best foot forward in the digital world. Here are a few free one page WordPress themes definitely worth checking out.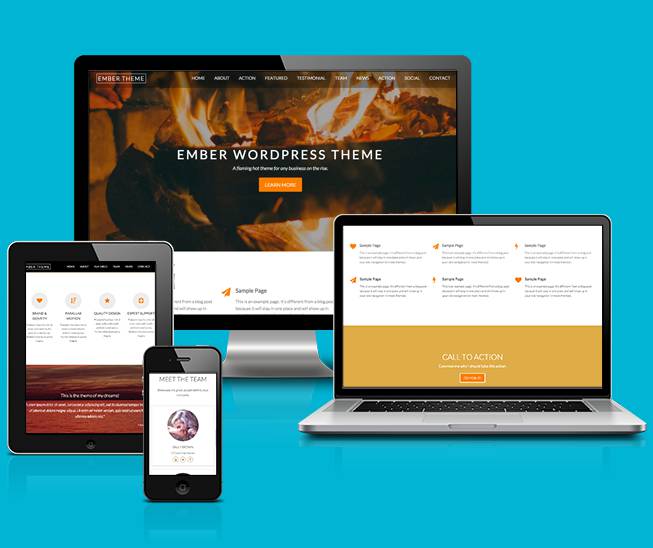 Ember Pro is an exceptional (and free) one page WordPress theme designed for focusing on the particulars you want to share with site visitors.  Choose from unlimited colors and brand your website to match your company exactly, enjoy the full-featured parallax scroll effect for added visual appeal, and know that those on the go will always have the option of viewing your website as you want it to render.  More so, pick from the included Google fonts, integrate social media directly into your website and stay connected with your loyal readers, and manage your SEO optimization straight from the theme's back-end.
With Ember Pro, you will enjoy top-notch security and clean, a lightweight code meant to provide users with ultra fast loading speeds and optimal page performance.  In addition, you can add additional functionality to this one page website using the Nimbus Shortcode library and add things like buttons, columns, and even icons.  Or, simply access the Nimbus theme options panel and change layouts, colors, fonts, and sidebars straight from the admin section.  Lastly, for those looking to sell online, integrate the highly popular WooCommerce plugin into Ember Pro and set up shop immediately.  Altogether, this one page WordPress theme is meant for focusing on the things that matter – your company and your customers.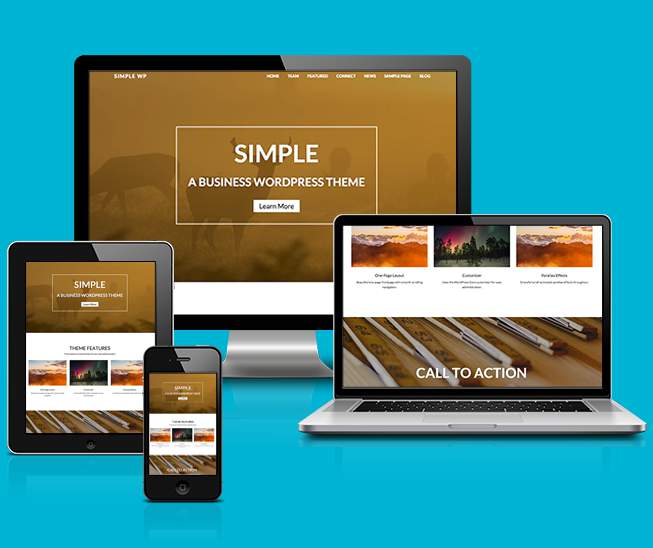 Simple is another wonderful free one page WordPress theme claiming that its quality and flexibility supersede any others on the market today.  With a modern, minimal, and clean design, this cool parallax theme does not overwhelm.  In fact, it offers just the right amount of features to get the job done.  For instance, choose from plenty of frontpage layouts to get the exact look you are aiming for – sticky navigation, a slider or banner, featured pages, a blog feed, and more.  In addition, add a featured post spot and direct readers to that special post you want everyone to view.  More so, add a couple of columns to encourage site visitors to read your other content as well.
With Simple, all site visitors will avoid constant scrolling, zooming, and turning of their devices thanks to its responsive and mobile friendly design.  More so, they will enjoy your website's personalization since you can customize every element using the fully-loaded Nimbus options panel.  Add shortcodes, control SEO options, and change colors, fonts, and layouts all from one convenient and intuitive spot.  Lastly, include a Team section, a Testimonial section, and even an About Us section that your readers can easily jump to thanks to the navigation bar and smooth scroll effect.  
Rounding up our list of the best free one page WordPress themes available is our very own Pixova Lite. The theme has a suite of features you will surely find useful. It's fast, translation ready, and SEO-friendly. Pixova Lite features unlimited, randomized header images and a portfolio area. It also comes with pie charts, a contact form, and a blog section. You get many more customization options that make it easy to tweak it to match your needs. Not too shabby.
Features:
Translation Ready
Cross Browser Compatibility
Extensive Documentation
A stunning and flexible WordPress theme, Parallax One can be used for a variety of purposes. Content will be the main attraction, so you will be able to display your best work or product in all its glory. The theme provides a clean and elegant design, as well a trendy parallax effect that will give your website a modern look. Features also include clean code, a powerful theme options panel, and Google Maps integration.
Features:
Browser Compatibility
Translation Ready
Multiple Color Schemes
One Paze is a beautifully designed and posh WordPress theme. It comes comes with a stunning parallax effect and several advanced features. Moreover, it's lightning fast, versatile, and extremely easy to customize. Gone are the days when you needed an entire team to build and launch a website. Even with minimal programming knowledge, you will be able to install and customize this beauty without any outside help. Plus, One Paze is translation ready and SEO optimized. You will have all the tools you need to reach and engage your target audience.
Features:
Cross Browser Compatibility
Translation Ready
SEO-Friendly
Starter is a theme built to impress. It's fast, beautiful, and packed with awesome premium features. It comes with multiple post types and a stylish portfolio section. You also get a carousel slider that will enable you to display your best visual content. The theme is also incorporated with parallax effect for a modern looking layout. Your website will look stunningly beautiful. All in all, one of the best free one page WordPress themes currently available.
Features:
SEO-Friendly
Carousel Slider
Portfolio Gallery
SimpleShift is a flexible multi-purpose theme perfect for businesses of all sizes. It comes with beautiful parallax effects and super clean code. It also offers several high-quality custom widgets to help you build a stunning front page. Bonus: SimpleShift's blog section will surely grab your eye.
Features:
Social Icons
SEO-Friendly
Custom Widgets
Besides being gorgeous and posh, OneTone comes with built-in homepage sections. It also has a shortcode generator and a full-width slider featured on a single page. Furthermore, parallax scrolling background and video background are also available. The theme is a breeze to customize and SEO-friendly. Additionally, it's integrated with the entire Font Awesome Icon Set. No list of the best free one page WordPress themes would be complete without this one.
Features:
SEO Friendly
Flexible Layouts
Translation Ready
West targets mainly businesses and creative agencies. However, it can be used for a variety of other purposes. It offers Live Composer integration, as well as fonts and colors controls. You also get tons of blog options, custom header option, and more. A stunning portfolio section helps the theme stand out from the crowd. Meanwhile, the blog area enables you to share even more content with your audience. Last but not least, West comes with several premade layouts, so setting it up will be a walk in the park.
Features:
Live Composer Integration
Translation Ready
Multiple Premade Layouts
If you're looking for minimal design and great functionality, look no more. Onesie is basically a one page portfolio page. It's meant to help you keep things simple and deliver information in a clear and stylish manner. The theme comes with easy customization options, unlimited galleries, and custom widget areas. In other words, it only packs the basics, so it's ideal for those looking to set up a site as quickly as possible.
Features:
Easy to Customize
Custom Widgets Area
Unlimited Galleries
Launching a new app? You need a great website to promote it, and Appz was built to help you out. The theme is insanely easy to manage, fast, effective, and beautifully designed. Features include a slick content slider, a clean options panel, and extensive customization options. The team behind Appz also put together a comprehensive tutorial. It will help you install and tweak the theme in a jiffy.
Features:
Content Slider
Translation Ready
Cross-Browser Compatibility
Awe as in awesome, and the theme stays true to its name. It's integrated with an unlimited slider, so you can create any number of sliders you'd like. Moreover, the theme offers a powerful options panel. You also get YouTube/Vimeo video backgrounds and a stylish blog template. A handy pricing table is also included. In short, Awe is elegant, modern, and user-friendly.
Features:
Unlimited Slider
Pricing Table Included
Awesome Blog Layout
Most free one page WordPress themes help you keep things simple and make a great first impression. Minimable does all this and more. Its gorgeous design will keep visitors coming back for more. Simultaneously, its great functionality will enable you to showcase your content in a modern and user-friendly way. The theme offers a stunning navigation menu. It also comes with awesome animation effects and an overall playful and interactive look.
Features:
Cross-Browser Compatibility
Multiple Color Schemes
Scrollable
Cute and light, Limo comes with a pricing table, about us section, portfolio area, and more. It was designed to help teams and businesses promote their work and services. Thus, it's perfect for a company or agency website. Limo offers smooth scrolling. Moreover, it comes equipped with lazzy loader and incorporates a carousel slider for a polished look.
Features:
Great Options Panel
Carousel Slider
Lazzy Loader
Why Choose One of the Free One Page WordPress Themes on Our List?
The free one page WordPress themes featured above are stylish and fully functional. Plus, they're very easy to set up. They are well-suited for business/corporate websites, freelancer sites, or portfolios. Moreover, they were crafted with great attention to detail. They're ideal for product presentations and landing pages. Organizing your content will be piece of cake. Not only that, but visitors will keep scrolling with enthusiasm, eager to learn more. In short, any of the themes on our list will help you showcase your best content and make a great first impression.
Final Thoughts
One page design is a trend that's here to stay. Mainly because it's incredibly appealing for business and product website owners. The themes on our list provide a flawless browsing experience. Plus, they help you display your best content in style. Their popularity is a testament to how versatile and SEO-friendly they are. In short, any of them is a great choice. Especially for those looking to launch an amazing website quickly and painlessly.
Hungry for more WordPress tips and tricks? Keep browsing our website or subscribe to our newsletter!